The Cyprus bunch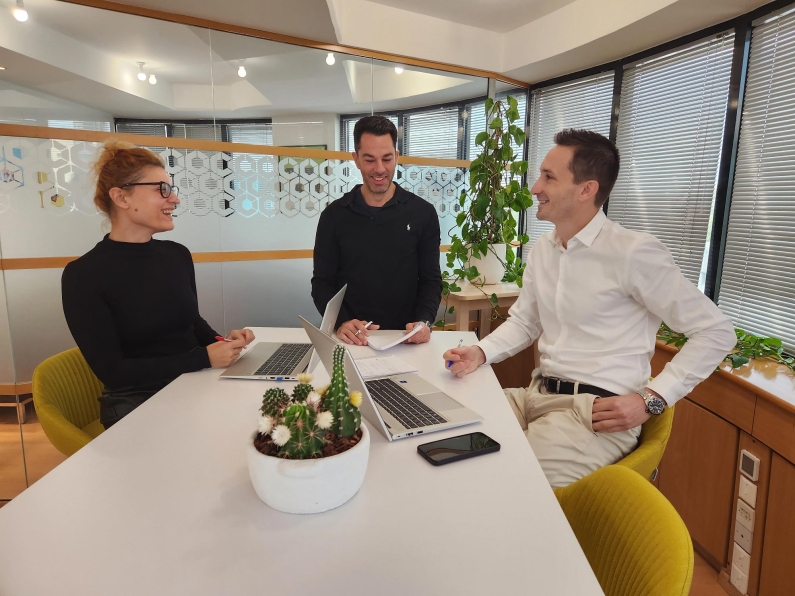 We opened our office in Nicosia, Cyprus in 2022 as a base for our local and international team to support our European business. Thanks to our wonderful staff on the ground, our team have a home away from home when travelling to work with our clients in the area. We caught up with a few of our permanent Cyprus team members to find out what it is that makes working at our European base special to them.
They all agree that DataTorque's office is a functional and inspiring space. It sits in a prime location in Nicosia with wonderful, sunny views, giving great access to our clients from a key financial centre of Southeast Europe.
Christos, our European Programme Manager, says that he values the people and relationships that he has made, and the opportunities to work with people from many different cultures. The office is friendly and open, where people can be comfortable to be their true selves at work.
Despina, our Business Coordinator, adds that DataTorque has invested in her future through mentoring, upskilling and training. This combined with opportunities to unplug from work, recharge and unwind make her feel more driven in her role.
For Maria, our Technical Writer and Translator, the role at DataTorque has been a great opportunity to embrace the aspects of New Zealand work ethics that she respects, and to bring those to her homeland. She says they are a family-like team in Cyprus that are equally glad to host colleagues from New Zealand and around the world. She enjoys sharing Cypriot culture, such as how to make a refreshing frappe, the local cold coffee—the perfect thing to keep you going on a hot Cyprus day.
Cyprus is an ideal location for DataTorque's European presence—not only because of the access that it provides to our nearby clients, but also due to the high quality of life the island provides for our team and their families.
Above all else, it is our friendly and hard-working Cyprus team that have created a successful and welcoming office.